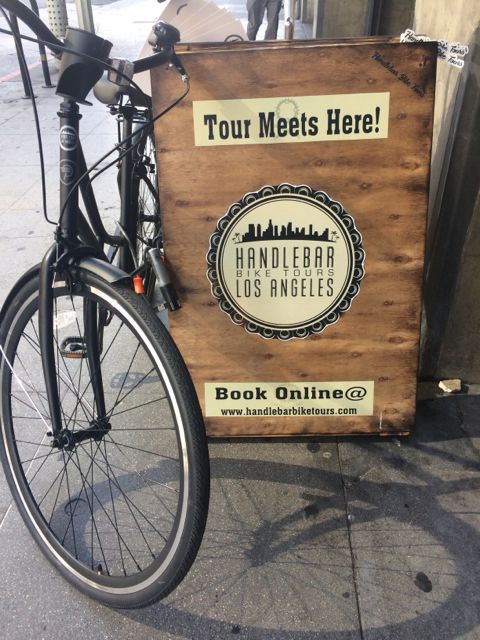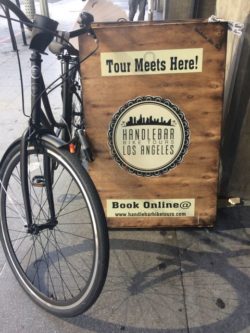 Tours meet at Hill Street entrance to Grand Central Market, 15 minutes prior to start. Look for our sidewalk signage.

Booking online is best. A confirmation email link allows you to reschedule or cancel your tour. Plus our digital waiver and payment is taken care of before your tour.

No need to print a ticket, just arrive at our clearly marked meeting point on Hill St. and enjoy your tour!

Online booking is available up to 1-hour prior to start of a scheduled tour. You can sign-up and pay on site if we have availability.

Cancellation policy: 24 hours in advance, for full refund. After 24 hours full tour price will be forfeited.

Due to health and safety concerns, tours will not take place if the temperature exceeds 95 F/35 C, or rain at tour time. We will update tour viability via email 1-hour prior on questionable weather days. Full refunds will be automatically issued.

Participants must be a minimum of 12 year of age.

Participants must sign a Waiver and Release of Liability Agreement.
FAQs
L.A. is known for traffic, is biking safe? Absolutely; we time our tours for low traffic periods, choose routes based on their bike-ability and adhere to clear protocols communicated to participants. Downtown's pedestrian improvements and traffic calming measures make it more accommodating for cyclists. All Handlebar Bike Guides are experienced city cyclists and First Aid certified. Guests often comment on how safe they feel on our tours.
How many stops on the tour? Each tour has 10-12 narrated stops, of 5 minutes. We also provide an off bike break for you to explore a bit on your own on every tour. Plus our guides are amplified, no straining to hear.
Can I bring my own bike? Yes, as long as it is in good repair, but you don't need to, we have different sizes to fit most.
What happens after I book, can I reschedule? You will receive a confirmation email, that contains a link for you to reschedule or cancel up to 24 hours prior to your tour, or you can shoot us an email and we can do it for you.
Where do we meet? All tours start and end at Grand Central Market, look for our signage on Hill St. sidewalk.
Parking? Yes! The cheapest all-day lot is at the corner of Hill and 3rd St. The "Courthouse" parking lot is usually $10. Pro-tip, if its a Sunday meters are free!
How far are you from the Metro? Less than a block from the Red Line Pershing Square stop, 4th St. exit.
Is there some place I can put my stuff? Yes, we have locked luggage storage available during your tour, although we assume no liability. The bikes are equipped with small handlebar bags for wallets/phones etc., and racks on the back for larger bags.
Do I have to wear a helmet? Yes, our stylish Bell helmets will have you looking cool. Plus we clean them thoroughly after each use with an organic eucalyptus disinfectant, and replace helmets every 6 months.
I ride a bike about 2-3 times a year; will it be hard? No, we've designed all our tours for casual riders. You'll get a little work out, but no huffing and puffing or endless hills on any of our tours. We stop frequently, and every tour includes an off bike break of about 15 minutes. All tours are 6-8 miles, and we're checking in periodically with guests on pace.